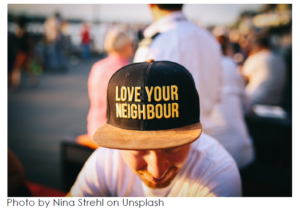 While training a new Crime Prevention Group in a Block Watch presentation it reminded me that you can pick your friends, but you can't pick your neighbours. If you are lucky, you have good neighbours. This group was a classic example of people on the same page with the same goals. Neighbours can play an important role in our crime prevention groups and our lives, and remember, you are a neighbour too. I'd like to remind everyone about the importance of being a "Good Neighbour." In the following article, written by Julie A. Johnson (originally for PairedLife.com) I found she summed up the sentiment of being a good neighbour very accurately.
A good neighbour is friendly and considerate. Though good neighbours may live close, they respect your space and privacy. Good neighbours' wave at you, may stop to pet your dog and chat, and buy lemonade from your children. Good neighbours take time to talk and smile. They reach out to connect to you. Good neighbours' actions support community. A good neighbour looks out for others. This idea is illustrated in communities throughout the City who have developed Crime Prevention Groups. To deter crime and violence Block Watches, comprised of people who are good neighbours, have developed. Their goal is to keep watch on each other's homes so, if a burglar is prowling about, or suspicious people are casing out someone's home, a watchful neighbour calls the proper authorities to investigate the situation. Knowing the people who live around you provides a strengthened sense of pride in your home and neighbourhood. Coming home just feels nicer. Perhaps sometimes we should focus on our similarities, and not our differences. While you may not be able to change the neighbourhood in which you live, you can change the experience you have in your own neighbourhood by getting more involved with those around you and taking pride in the area in which you live. The following are some ideas and resources that can help you to feel more at home in your neighbourhood:
Get Out More
If you live in a generally safe area, I highly recommend taking a morning or evening walk. It's a great stress reliever that also allows you to get to know many of your neighbours, get an understanding of who lives where, and feel more at home in your surroundings.
Smile
It's simple enough, but if you're not in the habit of smiling and giving a friendly hello to the people you encounter in your neighbourhood, it's a good habit to start. While not everyone will return the friendliness immediately, it's a quick way to get to know people and build relationships, even if you've lived close for years and haven't really said much to one another.
Talk to your Elders
The more veteran members of the neighbourhood often have the inside scoop on the neighbourhood. You may be surprised at how much you can learn if you stop to take the time to talk to the sweet old lady at the end of the block.
Host a Block Party
If you already know several of your neighbours in a superficially friendly way, you may want to get to know them better and meet the rest by throwing a block party. They're surprisingly fun and easy. Ask yourself, "Am I a good neighbour?" Remember you get what you give. Try to be a good neighbour.
By Regan Boresinko
City of Vernon
Disclaimer: The original article was written before the COVID-19 pandemic, so BCCDC guidelines should be followed for any in-person gatherings.