BLOCK WATCH SOCIETY OF BC — BOARD OF DIRECTORS 2021
Administration:
891 Mt. Bulman Place, Vernon BC V1B 2Z4
Toll Free: 1-877-602-3358
Email: blockwatch@blockwatch.com
The Board 2021
Regan Borisenko – President – Vernon Protective Services
Regan joined the Board in 2016 working as the Director of Education. 2017-20 leading the Board of Directors in completing deliverables, as well as, creating a Strategic Plan for the Society which will enhance and guide the brand of Block Watch throughout British Columbia.
Regan started his career with Canada Customs in Vancouver enforcing compliance regarding importation of goods into Canada. As a plain clothes officer investigated misuse of non-duty paid vehicles, suspected smuggling of goods, vehicles, vessels and drugs.
Regan was an Auxiliary Constable with the Kelowna RCMP Detachment for 11 years. Worked in General Duty, Foot Patrol, City Traffic and Marine Divisions. As a team leader and executive member of the largest Auxiliary Detachment in Canada responsible for guiding and instructing other Aux. Members.
Regan was the General Manager/Dealer Principle, for over 23 years, of one of the oldest RV Dealerships, Valley RV, in the Okanagan. He still lives in Kelowna.
Since 2010 has been the Crime Prevention Coordinator for the City of Vernon Protective Services Division. He manages 87+ Block Watches as well as the Crime Free Multi-housing Program. He supervises recruits and trains 60+ RCMP Volunteers in the Night Patrol Program, Speed Watch Operations, and Distracted Driving Operations and Vessel Safety and Invasive Mussel checks.
---
Dawn Dickinson – Vice President – Burnaby RCMP
Dawn has served in several different community policing positions during her more than seventeen years with the Burnaby RCMP. Most of this time has been spent supporting victims of crime and trauma. Dawn joined the newly formed Crime Prevention Unit in 2013, shifting from a reactive to a proactive approach to community wellness.
In her role as Crime Prevention Unit Coordinator, Dawn oversees eight separate public safety and education programs, including the robust Burnaby Blockwatch program.
Dawn sees Blockwatch as key to building neighbourhood-level cohesion and resilience, creating stronger and well connected communities.
---
Susan Stickley, MA – Treasurer – RCMP Support Services, Community Programs Manager Surrey RCMP Detachment
---
Kimberly Kelley – Director – Victoria Police Department (VicPD)
She was appointed to the Board in the fall of 2017 and serves as the Director of Membership. She has been very active in the building and branding of the Society.
Kimberly has been a civilian with VicPD since 2008 and has worked in numerous positions within the department including the Crime Prevention section, Information Management, Human Resources, Investigative Services, Executive Services and now within the Community Engagement Division, as the Community Programs Coordinator.
Having had the opportunity to work in different sections of the Victoria Police Department has provided her with valuable insight, knowledge and experience that she can apply to the Block Watch Program.
---
Cst. Stephanie Cullingworth – Director – Vancouver Police Department
Stephanie is a sworn officer with the Vancouver Police, having held positions in the Operations Division patrolling both Districts 1 and 2, as well as in the Special Investigative Section where she was a Detective with the Sex Crimes and Child Abuse Unit. Prior to policing, Stephanie was a volunteer with the Granville Community Policing Centre and with Victim Services.
Having experienced firsthand the benefits of being an active member of her own community, Stephanie sees the tremendous value in the Block Watch program and  looks forward to contributing her insight and experience.
---
Rimmi Purewal – Director – District of Mission Crime Prevention Coordinator
Rimmi is a Bachelor of Criminal Justice graduate from the University of Fraser Valley and has worked with the RCMP since late 2012. During her employment working with the RCMP, Rimmi has worked in various roles, such as Privacy and Information Coordinator, Quality Assurance, backup Court Liaison Officer and Front Counter Services. Based on her passion for community safety-related projects and her knowledge in this area, Rimmi was recently selected for a challenging role serving as a Crime Prevention Coordinator for the District of Mission.
Rimmi has had a great interest in working closely with the public and brainstorming innovative ways to maintain and enhance community safety. Rimmi is passionate about inspiring and empowering members of the community to work collectively towards creating safer neighbourhoods. Rimmi is married with two beautiful children and has been a long term resident of the Fraser Valley.
She strongly believes in the Block Watch program and is looking forward to serving on the Board of Directors. 
---
Mike Moyer – Director – Regional District of North Okanagan (RDNO)
Mike is a retired RCMP member with 20+ years' experience in Law Enforcement.  He is currently a Bylaw Officer/Safe Communities Coordinator for the RDNO.
During his years of service throughout British Columbia, his career had a full range of geographical experiences from urban, rural and remote postings, dealing with many aspects of policing such as community policing, Aboriginal policing, gangs, criminal intelligence and investigations related to drugs, criminality and serious crimes.  Mike is a trained Media Relations Officer, Mediator, Restorative Justice Facilitator, and DARE Officer who has worked in various schools throughout BC.  As a result of his past experiences in policing, Mike believes that well-designed interventions can have a positive influence on behaviors, and crimes can be reduced or prevented by addressing risk factors that lead to offending. Successful interventions have been shown to reduce not only victimization but also the social and economic costs that result from criminal activities.
Mike oversees 20+ rural Block Watches and five Speed Watch groups, along with his roles investigating a host of bylaw investigations and initiating community outreach initiatives. He loves his current role and is always willing to assist communities and local user groups in any way possible.  When Mike isn't contributing to making communities safer, he is spending time with his family, training in Wing Chun Kung Fu or creating another water colour painting.  Mike lives in Lake Country, BC, with his wife, daughter and dogs.
---
Gabriel Pelletier – Media Committee Chairman – Surrey RCMP Community Programs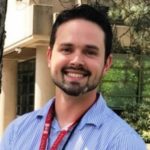 Gabriel was hired on by Surrey RCMP Support Services in 2011, and he joined the community side of operations in 2014, starting first as District Office Coordinator, and then managing Block Watch groups all over Surrey for 4 years. He has been coordinating the volunteer program at the Surrey RCMP Detachment since November 2018, but he still works closely with his colleagues in the Block Watch program. He makes sure the volunteer program is flexible to attend to any Block Watch need, whether it's to help with engagement, test for speeding cars or audit a strata parking lot for valuables left in vehicles.
Since Gabriel joined the Board at the 2017 AGM, his efforts have mainly been focused on up keeping the website, Community Grants and the Newsletter as well as increasing the Block Watch Society's social media presence. He assisted with the Grant application process during his first year and has led it now for the last two years. Gabriel completely revamped the Newsletter to make it more appealing to read and he strives to coordinate a mixture crime prevention articles, timely subjects and also topics that rely on directors' in-depth knowledge.
He, his wife and three kids live in a quiet part of Surrey, dreaming of a little more room to run around.
---
Leah Marlay – Marketing Committee Chairman – Vancouver Police Department
Leah is an acting Board member in place of the elected police officer, who retired in February 2020.
She has been the Vancouver Police Department Block Watch Coordinator for the city of Vancouver since 2008 and has enjoyed a civilian career with the Vancouver Police Department since 1992.  During that time she has held other positions including Planning & Research Assistant and Victim Services Crisis Intervention Worker. In 2018 Leah successfully completed the International Association of Crime Practitioners training.
In her role as Block Watch Coordinator, Leah's contributions have included producing the VPD's 'Krenz on Krime' YouTube crime prevention series, evolving the Block Watch Captain/Co-Captain training and creating VPD resource websites: Victim's Guide to Residential Break and Enters and Theft from Auto resources & tips.
Born and raised in the lower mainland and after 21 years living in the city of Vancouver, Leah and her husband, Mike, now enjoy the North Shore lifestyle.
---
Industry Associate Directors:
ICBC: Christine Kirby
RCMP: Jane Hanson
Government Partners:
Ministry of Public Safety & Solicitor General: Keith Ramzan Program Manager
Victim Services and Crime Prevention
Community Safety and Crime Prevention Branch
Work: (604) 660-2916
Email: keith.ramzan@gov.bc.ca
RCMP "E" Division Liaison: Jane Hanson, Volunteer Management Program Director, Crime Prevention & Program Support Services
Phone: (604) 530-2593
Alternate Phone: (778) 290-4016
Email: jane.hanson@rcmp-grc.gc.ca